At Comfort Services, Inc., our team of highly trained and experienced professionals provide complete solutions for any heating and cooling challenge you may have here in Aberdeen, NC. Since we opened our doors in 2003, we have been committed to serving this area with the highest standards of customer service.
Who We Are
Our entire professional team continues to evolve our heating, ventilation, and air conditioning (HVAC) services, each day striving to exceed our extraordinary standards of quality, workmanship, and customer care. Maintaining our reputation as a reliable and honest North Carolina HVAC company is one of our highest priorities along with our pursuit of excellence in all we do.
We are locally owned and operated, giving you peace of mind we know you, our customer, our neighbor. Our team can help you no matter what type of heating and cooling need you may have. It is our goal to bring you the highest level of comfort without breaking the bank. We will work with you on any installation, repair, or maintenance your home or business may require.
Our professional technicians are highly certified with years of experience. We are North American Technician Excellence (NATE) trained, which adds to the expertise we offer to you. In everything we do, our team goes above and beyond to be sure of your satisfaction. It's important to us you are happy. This is how we can bring you outstanding service and equipment and why we are the best.
What We Do for You
Putting you first is what we do. Not every HVAC company stands behind what they say they will do. Comfort Services, Inc., does. You can have trust when we say we will do something, we will.
When you:
Want the highest quality HVAC equipment, rest assured we bring you only the best. We recommend brands at the top of our industry.
Want the leading professionals in the industry working on your system, you can have confidence working with us. Each and every technician is NATE certified and factory trained. That means all our installation, repair, ane maintenance technicians as well as our entire management team are second to none. Our industry knowledge and
experience are difficult to surpass.
Want the best warranties in the industry, you do not need to worry with us. Outstanding warranties accompany our quality HVAC installations and repairs—we guarantee all our work. Give us a call. We would love to tell you about them.
Call for emergency service, 24 hours a day/7 days a week, you not be left without help. We know you are calling because it's an emergency. And we are here for you.
Have a question about your comfort, anything heating and/or air conditioning, we invite you to call us. Getting advice or tips from one of our trusted experts is worth its weight in gold.
Want to work with a company who has the highest respect for you, you want to work with us. This umbrella of respect covers all areas, from how we treat your home when we are working to how we speak to you to the excellent condition of the vehicles we park in your driveway.
It is out of our of respect for you, our customer, we bring you the best of all we have to offer—the highest available technology and quality in our HVAC systems, the top technicians and service teams available, and some of the most competitive pricing in the area.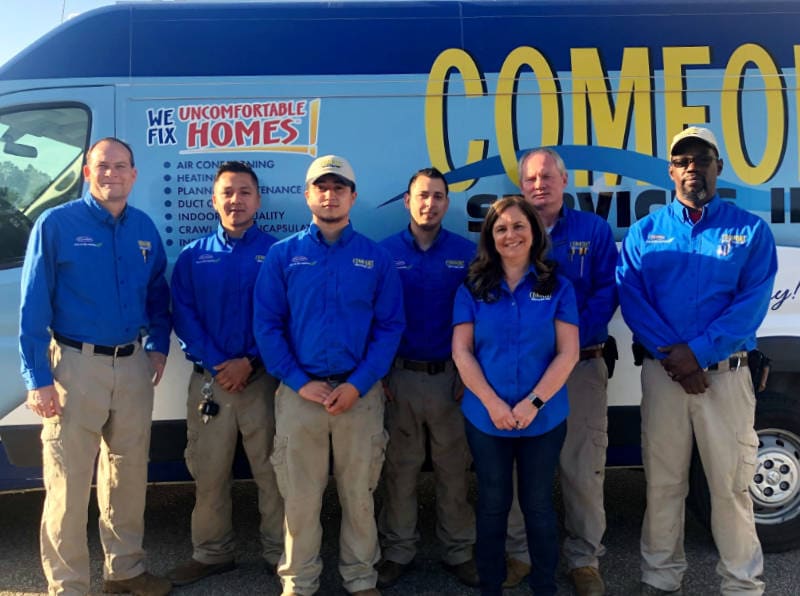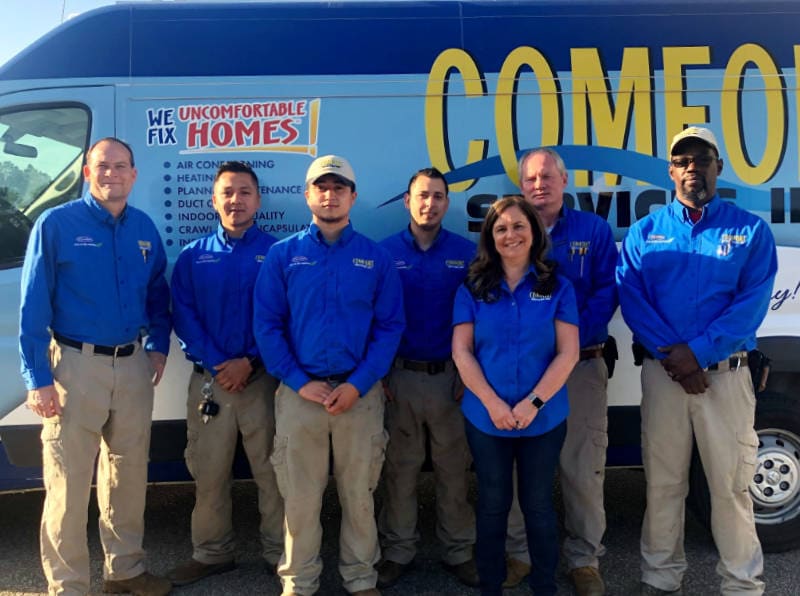 Our Services
If you are looking to remodel your home or business, or you have just moved and want to replace the home's or business's current system, our specialists can retrofit your system with the highest-efficiency units to ensure you save money on your energy bills and maximize your ultimate comfort. Your complete satisfaction is our primary focus.
We are happy to have the experience to work on all brands and models of systems. If you are looking for repairs or maintenance on your existing system, our professionals will effectively and efficiently get your system back to its highest efficiency.
We want to get your equipment in optimal condition so it can operate at peak performance, decreasing what you are paying for your energy while increasing your level of comfort. And keep in mind, we are so confident in our professionals and our materials, we guarantee our work, so you never have to worry.
Call Comfort Services Today
Our high reputation for excellence here in the Aberdeen, NC, area speaks to our team consistently putting you, our customer, first. Your satisfaction and comfort are of the greatest importance to us. Call us today at 910-695-2665 or request service online.
---
Comfort Services, Inc., proudly provides HVAC service to Aberdeen, Jackson Springs, Laurinburg, Pinebluff, Pinehurst, Raeford, Southern Pines, Vass, West End, Whispering Pines, and the surrounding North Carolina communities. Visit our service area page for more coverage details, call us at 910-695-2665, or request service online today.